Many years ago a young man left his native country in an age of innocence. Exchanging the security of an ordered (though in the long run perhaps somewhat confining) welfare state, for the zest and vitality of a vast and complex country in the West. The young man's name was Bertil Vallien and it is about the years he spent in the US, 1961-3 that is the focus of this article. A rosy era long since faded into the horizon.
-Well, I remember it as a blend of hopeful anticipation, joy and fear. The fear of not being good enough, not being able to make a living out of the lengthy training I'd had. But mostly of tremendous optimism. I needed a job - and I knew that I could get one. But how would I cope with it? Bertil searches his memory.
His fears, though a mark of humility, were unfounded. Wasn't he that student in the ceramics department at the Konstfack college, 1955-61, who had thrown himself into a frenzy of creativeness, bursting with energy, and totally dedicated to becoming the best student they'd ever had?
In summer '59, he was drawn into the world of glass. More precisely to the studio of Erik Höglund (distinguished Swedish glass artist) at Boda, for a spell of training. "It was a dream situation for all of us young potters. Not least because of his great personality; his ability to inspire and to open new doors. He was a living proof that elegance in a design wasn't everything." Höglund engaged Bertil as an assistant, 1959-60.
-For some reason he didn't want me as a designer at Boda, so he arranged a place for me at Åfors in 1960, where I loaned Ernest Gordon's studio for one month. I designed my very first glass service - a set of blue glasses, titled BV 101.
He would return to this studio many times. After completing his education (with honours) at the college in 1961, he took up an offer of employment from the Hal Framholdt Ceramics company in Los Angeles. And in September, armed with a Royal scholarship, he set sail, crossing the Atlantic on the SS Gripsholm. (The journey lasted a week and a one-way passage cost 1,100 Swedish kronor). He had a great time on board, dining in style and celebrating with other young scholarship holders. In New York he boarded the plane to LA.
What were his first impressions of Los Angeles?
-I was dumbstruck! Says Bertil . All those orange groves, swimming pools and automobiles in a sweltering hot city. One particular memory is a spicy detail. Hal Framholdt met me at the airport. I was quite tired after the long journey so he suggests that we go and rest. It turns out that we're gonna be in the same bed. (I'd read somewhere that one shouldn't be surprised if American friends invited one to share a bed!) Well OK then, that's the way they do it here, I thought. So I climb in beside him. Only to discover that he was after my body! He was a renowned homosexual. That night I slept in an armchair. It wasn't a good beginning...for him. I soon got hold of an apartment in Bunker Hill, downtown. The glass factory was within walking distance.
The sixties was a dynamic period for the American arts and crafts, especially in California, where people like Peter Voulkos and Jerry Rothman, were breaking with the traditional methods of working with clay.
"I wasn't into glass at that time", Bertil admits. Along with glass and pottery, there was Pop Art and the happy-go-lucky music that made up the soundtrack of the Kennedy era: Frank Sinatra, The Beach Boys and the Pop symphonies of Phil Spector.
-The US was a real injection, and a terrific boost to my self confidence.
Instead of spending hours on the spout of a jug (as I had done at the college) I was able to work on my own ideas, but to begin with I had to do a lot of boring jobs. Before long, I was making models, which were rapidly put into production, The factory's basic range consisted of ash trays, murals, and large (stoneware) jars. Hal was really quite a remarkable person. He believed in the supernatural, and would insist that every firing at the kiln was presided over by a guardian spirit, or household god. It was my job to make these clay figurines, which eventually became part of the production line. Hal died in 1975 - of unknown causes. But it's my guess that he was one of the first AIDS cases. Before anyone was aware of the dreadful disease.
The bold optimism of the sixties spurred Bertil to reject the dominant style of contemporary Swedish design.
-I was really pissed off by Scandinavian Design.
He quickly acquired a network of contacts, among fellow artists and art-galleries.
The first real test for Bertil took place at the Ryder Gallery (on La Cinega Boulevard), in June, 1962. Just two blocks away, another opening-day was in progress.
-Imagine. Me and Andy Warhol having a show at the same time! That was when he exhibited his soup cans for the first time.
Bertil holds his first one-man show at which he exhibits some forty sculptures. He sells every one of them and even got a good press.
Art professor, Karl With, wrote the following, (translated from Gunnar Lindqvist's Swedish text):
"...but what a wonderful surprise to witness such technical mastery, expressive vitality and powerful fancy. Vallien's sense for native folk tradition is so fresh and instinctive as to allow an easy translation into the artistic idiom of our time-"
In spring 1962, Bertil had won the "Young Americans 1962"award at the Museum of Contemporary Crafts in New York, for his sculpture "Family on Whale". The fact that the prize-winner was a young Swede with an American sounding name, had caused a mild sensation. Or how does the story go?
-When I left college my name was Wallin, but in LA I discovered that there was a actually another Swede - a silversmith - with the same surname, so I changed mine to Vallien. Presumably the jury liked my work, and I don't think there was anything political in their decision. Of course, I was glad, but at the same time it didn't strike me as so remarkable. Recently I was talking to an American professor of sculpture ( my age) who remembers the talk: "Is it true that a Swede is to get it?" Strangely enough, I felt like an American - the good thing about the States is that you can't be identified by your name. You can be called Ching Chong, Abdullah Muhammed or Bertil Vallien and still call yourself American.
The triumphs continued. In October he won another prize - a shared first (plus 175 dollars) from the Emerson Museum of Art , for his sculpture "Bull Mountain". In February 1963 he held a second exhibition at the Ryder Gallery, selling work for over 2,000 dollars. Although he brought no ceramic work back to Sweden; he did bring a freer way of working with clay - action pottery.
As he stated in the DN (Daily News June 4, 1963): "...the main emphasis (in this 'free school') is on the properties of clay, and how it behaves; there's no question of disciplining it on a wheel." The following month he returned to Sweden. **
The sculpture, "Family on Whale" is, he believes, now in the possession of some big art collector. He is often approached by people who say that they bought a work of his at Ryder's. But true or not, no ceramics from that period have survived. During his last year in Los Angeles he was joined by Ulrica and together they travelled to Mexico, a culture that has fired his imagination ever since college days. Notwithstanding his many triumphs, Bertil decides to return to Sweden.
-Sometimes I thought I might stay in America, but there was a real incentive to go back, since I'd been offered a good job at the glass factory in Åfors. "OK, I'll try it, I thought; I can always come back here if it doesn't work out". I throw out a hypothetical question: how would his art have developed if he had stayed in the States?
-I wouldn't have worked with glass. Most likely I'd have become a professor with my own studio. But what do I know?
The years I spent in the US have meant a lot to me. The tremendous vitality and desire to do things in a big way, (which can also have dire consequences!). It was a real kick!
He has derived enduring pleasure from his years in America; and an intimate knowledge of American society. He still maintains contact with various people over there. The forces of chance, or destiny, or whatever, may lead one on many journeys. But individual forces, or powers, are often overlooked.
BV began his forceful journey at the top and there he has remained.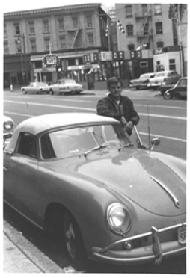 Bertil Vallien ready to drive Hal Fromhold´s Porsche somewhere in LA.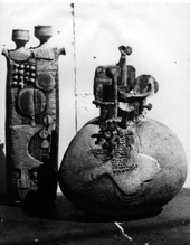 On the right: "Family On Whale", 1962.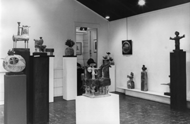 Bertil´s first one-man-show with ceramics at Ryder Gallery, 1962.


Outside Ryder Gallery, 1962.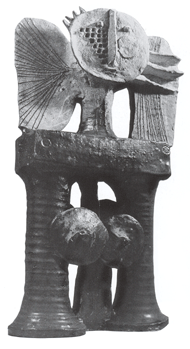 An owl in stoneware.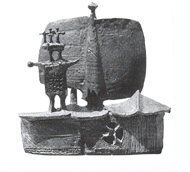 Bertil Vallien´s first boatsculpture.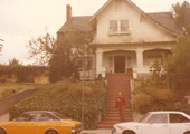 Bertil in front of the house in Bunker Hill, LA. The photo was taken in beginning of the 70s.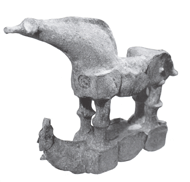 A horsesculpture in stoneware.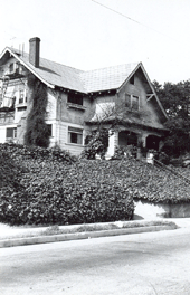 Bertil lived in this house at the second floor. The photo was taken during is years in LA (1961-63).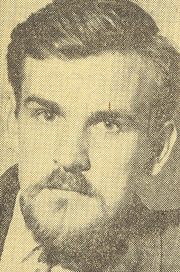 This picture is taken from an article on the US ceramicscene (4/6/63) in Sweden´s leading newspaper, Dagens Nyheter (Daily News)