When Bertil Vallien left the College of Art, Crafts and Design, he had no thought of working with glass. He went to USA, where almost overnight he became an acclaimed celebrity. After 2 years there he left to take up a new challenge- glass. He did not abandon pottery, however,and during the 60s and 70s he was involved in the renewal of ceramic art.
A precondition for starting at the Åfors factory was that Bertil and Ulrica would have a suitable place in which to work with their pottery. They set up a work-shop, and installed a new kiln in the old painting shed beside the Lyckeby river.
Throughout the 1960s Bertil took part in numerous exhibitions of pottery - often together with fellow potters, and nearly always with Ulrica. The fact that he was one of the leading ceramic-artists in Sweden is borne out by the many press cuttings from that period. His ceramic work showed the same powerful exuberance that he had been developing and refining ever since college days.
During that same decade, the ongoing debate about the difference between art and handicraft, was at its height. Bertil was one of the liveliest champions of the view that glass and ceramics could indeed be seen as art.
And proved his point in the 'New Pottery' exhibition at the Handicraft Society in Stockholm, in Spring, 1966.
This exhibition provided the clearest indication of the new direction for ceramics. Others who took part in the show, apart from Bertil and Ulrica, were Lars Hellsten and Britt-Ingrid Persson. Bertil showed his painted sculptures, one of which was bought by the National Museum of Fine Art, Stockholm.
The New Pottery exhibition drew positive interest from, i.a., 'Design Magazine' and the national daily, Dagens Nyheter. Eugen Wretholm (Design magazine) was impressed: "...He works with billowy, rythmical folds, and likes to coat some of his *stoneware* pieces with gaudy-coloured plastic lacquer. There is something relentless in the blurring of boundaries, an uncompromising force in what he does"
-The lacquer coating was my youthful protest. Against the subdued style of the sixties: the tedium of Scandinavian Design. Those of us who took part in New Pottery had been Stig Lindberg's students at the college, and we were all influenced by the his style of expression, Bertil says.
The tasks to be performed at the factory were taking more and more of Bertil's time and energies. He did no ceramic work during the greater part of the seventies. But in 1978 he made a comeback. The fruits of an intensive period of work at home in Äfors were shown in January, the following year at the Handicraft Society in Stockholm. It was called "Vessels".
The former rich exuberance had been replaced by bare sculptures, in raw clay. 'Vessels' was a turning point in Vallien's artistic career. No longer was it BV the designer and problem solver, here stood the artist, naked and exposed, without a safety net. It was the first time that the public became acquainted with the form that was to make him world famous – the boat.
-I had, of course, been trained as a potter, but gradually my double role of glass-designer/artist took up all my time. But I may very well go back to ceramics again, once I have cut down on the glass.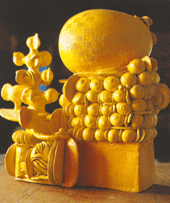 Ararat II, a painted sculpure, 1966. Photo: Jan Tennek.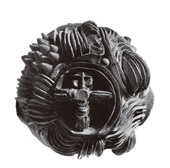 Sphere (Klot), shown at "New Pottery" in 1966. Photo: Stig T Karlsson.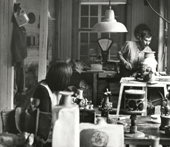 Inside Bertil´s and Ulrica´s workshop in Åfors, 1960´s.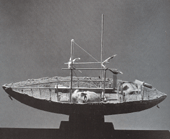 Future construction II (Framtidsbygge II), stoneware, 1979. Photo: Ola Terje.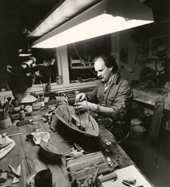 At work in Bertil´s workshop 1979. Photo: Ola Terje.