In Sweden, BV is identified with one aspect of the Glass Realm, or the Kosta Boda trademark; otherwise known as the man with the boats. Go West, and it's a different story altogether; to the aficionados of art in the US he is a much celebrated artist.
After his two successful years (1961-3) in California a mutual affection has been maintained between art-loving audiences in the US and the artist. Nowadays he holds at least two large exhibitions there every year. Since he began at Åfors in 1963, he has had over 20 one-man shows, chiefly in New York, Chicago and Seattle. Bertil has also guest-lectured and participated in workshops, among other places, at the Pilchuck Center for Studio-glass, and at various universities. When interviewing him in 1999 and 2000, I asked about his position in the US. In the first interview, he spoke of a large mechanised glass factory with studio-glass facilities in Millville, NJ, and of their annual Glass Weekend, which is attended by art-collectors, gallery-owners and specially invited artists. In July 1999, Vallien, and his art provided the main theme of the meeting. Apart from an exhibition of his work, he held a lecture and led a sandcasting.
-At such an event one is fairly exposed and naked. It's an unfamiliar situation, with a different kind of glass, colleagues, tools. But the organization is tip-top. I had a team of seven assisting me at the casting. I admire the American attitude.
What constitutes a good exhibition?
-I think it's crucial to have a basic theme. A cohesive concept which can later be varied. There's so much going on these days, so many visual impressions from the media and so on.
What is the position of art-in-glass compared with the free arts (fine art) in USA?
-It's an ancient conflict, just like here - a system of categorizationwhere glass comes under the heading of art-handicraft, and is viewed with a certain scepsis by the 'free' artists. However, the last decade has seen a tremendous renaissance for glass, and now even
established artists have begun to work with the medium.
In autumn 2000, Bertil had an exhibition at the Heller Gallery in New York, his regular gallery in the US. He mentioned a strange proposition made to him by an American art collector:
-I was commissioned by a millionaire to make two boats containing his and his wife's ashes!
He asked me this during dinner after an exhibition: "You can do what you like with them - paint them sky-blue pink for all I care, But they must be visible, and the contents of the boat
should reflect my life."
At first Bertil couldn't believe his ears. But the man was serious. He wanted something
Over and above the usual kind of gravestone. The sketches for the work are now ready and
the technical problems, hitherto, resolved. The work will be ready for delivery well before the decease of its commissioner.
Bertil: He's building a museum/mausoleum, in which the two large boats (2-3m. high) will be suspended, side by side from a block of granite. The boats symbolizethe journey. I envisage fragments of their life history - very scarred and rustic. The fore will be pure and clear, to give a feeling of the voyage through the ocean of memories, into an unknown future.
The ashes will be preserved in a cavity beneath the boat. Superfluous ash can be used as flux
In a glass smelt, possible for the Chateau champagne glasses, to be used at the funeral. A harmonizing of ritual and utility.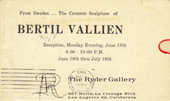 An invitationcard fromBertil´s one - manshow at Ryder Galler, Los Angeles 1962.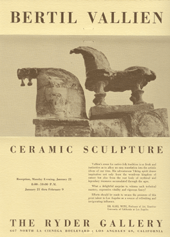 The second one - manshow at Ryder 1963.



An invitationcard from 1966. Exhibition at Bonniers in New York.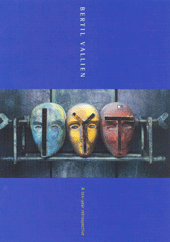 And one from Heller Gallery in New York 1999.